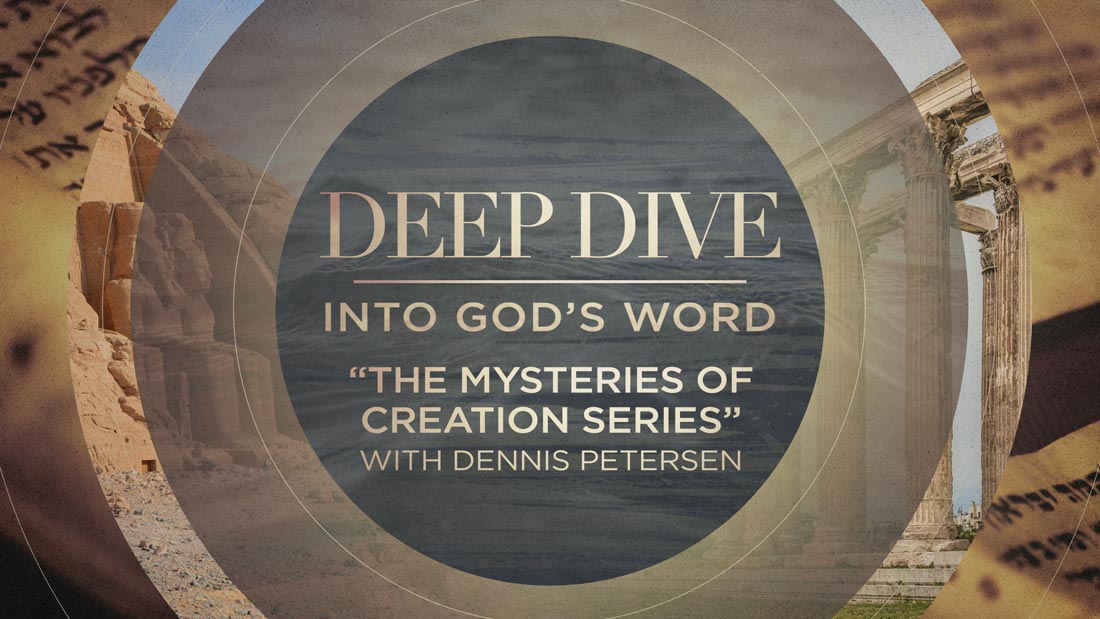 Student Center
24400 Interstate 45, The Woodlands
Join us for our Deep Dive Into God's Word The Mysteries of Creation series with Dennis Petersen on Sundays at 9am in the Student Center from July 10th through August 28th!
This Bible-based dynamic program will explore subjects like: Mysteries of Ancient Civilizations, Ice Ages, Dinosaurs and Cavemen, Extra-terrestrials, Future Catastrophes, Fossils and Evolution, Mountain Formation and Missing Links.
Unlocking
The Mysteries of Creation
is an unforgettable experience that will unlock many mysteries in simple yet profound ways to strengthen your confidence in the accuracy of the Bible. The whole experience will stimulate your faith and help you unveil the deceptions of secular humanism and evolution, which have so subtly affected all western thought.
Sundays in the Student Center
8:55am Sign in and pick up a notes page
9:00am Teaching Time Begins
10:30am Class Dismissal Denise will take our class on a journey to answer the following questions:
Why did the ancients build pyramids?
How do dinosaurs and fossils relate to the Bible?
Have missing links been found?
Is Noah's Ark really on Mt Arrarat?
Why are there myths of supernatural demigods?
Why have ancient civilizations mysteriously vanished?
What discoveries in space are surprising scientists?
What forces caused earths features?
Dennis Petersen, author of Unlocking the Mysteries of Creation and founder of the Creation Resource Foundation, is a man with a passion for God and His Word. With a heart full of enthusiasm, he skillfully communicates the awesomeness of God in His creation. He combines delightful humor with a rare ability to simplify technical things, giving you the enjoyable feeling that you're going on an adventure.
Coming from a career in museum work, his academic training is in science and history (B.S. 1968 California State University; M.A. 1971 State University of New York). That is enhanced by six years in museum curatorial work, three years of ministerial training, four years as college instructor of Old Testament and Christian evidences, and five years in pastoral leadership. Since 1983 he has traveled extensively from Alaska to Florida, as well as overseas, presenting multi-media seminars that communicate compelling truths to children and academics alike. He is justifiably proud of his four children that he and his wife Viola have educated at home most of their school years. They have often traveled together in the seminar work.
The Bible gives us the keys to unlock the mysteries of creation!
Have you ever wondered how to relate some of these things to your faith? What is the plain Bible perspective?
Parents – What do you do when you see your kids being persuaded that natural evidences deny what you believe?
Students – Is there information you're not getting in school that would give you a more complete picture on the REAL WORLD?.
TESTIMONIES FROM PAST THE MYSTERIES OF CREATION SEMINARS
"My husband loves science and I can't stand it, but once I came to the first night of the seminar I was hooked... I couldn't miss a session and I was on the edge of my seat the whole time."
-- Indianapolis, IN
"Eye-opening! I never knew all this info existed. I'm eternally grateful."
"Wonderful! We as Christians have needed this information for too long."
-- Albuquerque, NM
"This is the first time I've had a chance to hear some rational, intelligent argument to evolution. It's brought peace and reassurance. I feel more confident talking to people about the creation."
-- Kansas City, KS
"I can't think of anything I have seen to date that will carry the impact of scientific creation and Biblical history to the grass roots of America more effectively. Dennis Petersen's materials and visual expertise are certain to reach the Christians of America on this vital issue. They cannot afford to ignore what he is doing."
The late Dr. Richard Bliss, Ed.D.
Institute for Creation Research, El Cajon, CA
"... the case he made for creation was quite impressive here at Coral Ridge Church. I am happy to recommend this seminar to others, believing that the case for creation is one that is vitally important in our age and that Christians must become better informed on the issue."
The late Dr. D. James Kennedy, Ph.D.
Coral Ridge Presbyterian Church, Fort Lauderdale, Florida